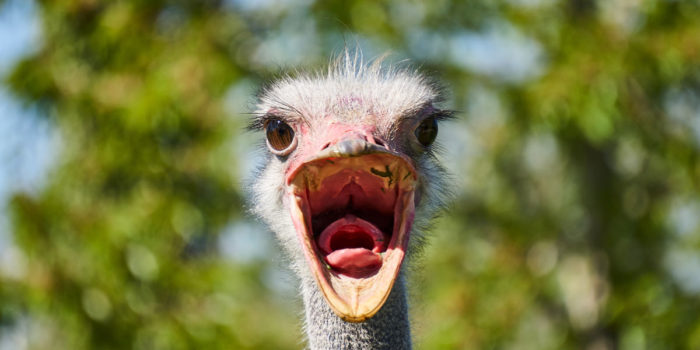 by Amy Lawson, MBA, CDFA®
Geckos, Emus & Mayhem
Whoever said "sex sells" never saw a commercial for insurance, be it car or property & casualty. In this arena, comedy is clearly king… or queen, as the case may be.
We laugh out loud at the little green gecko (whose name I can't recall – does he even have a name?) who pulls a wallet as big as his body out of an imaginary pocket.
I roll my eyes – though some may chuckle – at the LiMu Emu in a yellow button-down as he spastically scurries around town freaking out everyone he comes in contact with, though still appearing smarter than his bumbling, human sidekick, Doug.
Then there's Mayhem
I love Mayhem! Mayhem has come a long way since he played Tina Fey's beeper-selling boyfriend in 30 Rock. They are together again, this quirky pair, though their relationship in 30 Rock was so tragic, his name might as well have been Mayhem.
Farmers, Flo and the Football Hero
Farmers (who have seen a thing or two), Flo who has become so popular that she's now a Halloween costume favorite, and Payton Manning, whom I still wouldn't recognize if he walked up to me in produce section of Harris Teeter – all of whom make me a laugh!
So, what does all of this insurance commercial comedy have to do with divorce? Whether you're facing divorce or find yourself in the middle of it, there are LOTS of things that compete for your attention. Many of which you can't afford to ignore, with insurance being one of the them. Those kooky commercials keep the easy-to-overlook, mundane-as-dirt, boring-as-being-on-hold, in the forefront of our overloaded brains.
Hear me now, my gray girlfriend:
YOU. NEED. INSURANCE.
GO. GET. INSURANCE.
Whether it's your home, your car, your she-shed, or the boat that used to be his, remember to protect what's yours. Shop around. Even the cute Quaid has stepped onto the insurance-selling stage AND he's pretty funny!
Wishing you peace and plenty!
Your gray girlfriend,