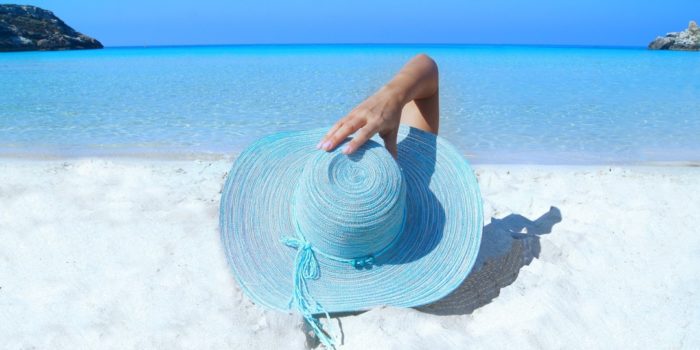 by Amy Lawson, MBA, CDFA®
For those of you who've met me, you know I have gray hair and pale skin. The gray hair comes naturally, but I keep my skin pale on purpose. I avoid the sun, unless I'm slathered in sunscreen, donning a wide brim hat. But, who wants to be slathered in chemicals and have their body's natural, main, heat conduit literally capped during the hottest part of the day? Who really WANTS wrinkles and skin cancer?
I will turn 60 this year, and, for my age, I have relatively few wrinkles. But, it's no great mystery as to why. I drink tons of water every day, I moisturize like a fiend, I consume alcohol in moderation, I don't smoke, and I avoid the sun.
Did I Need A New Friend?
A few years back, I dated a man (a naturally tanned man) who frequently complimented me on my lack of wrinkles and youthful skin, but increasingly, sarcastically, encouraged me to go outside and meet his friend, the sun. He actually would say that to me, "Let's go outside and meet my friend, the sun."
At first, I'd politely reply, "Now's not good for me, but how about we ride our bikes first thing in the morning or take a stroll on the beach before or after dinner?"
When sheer politeness failed to curb his enthusiasm, I started pointing out what I believed to be obvious, "No thanks, I'd prefer to not have wrinkles and skin cancer, but how about we ride our bikes first thing in the morning or take a stroll on the beach before or after dinner?"
Despite my steadfast reasoning, he persistently attempted to get me to spend time outside in the heat of the day. I finally reached the point where I'd just rolled my eyes, knowing that my attempting to inject logic into the situation would do nothing but leave me frustrated every time.
It's not as though I can't get a tan, mind you. Last Spring, I accidentally got some sun while jogging in place in the swimming pool of the beach house I rented for The Gray Girlfriend Guide to Divorce – Divorce Camp. It was early one morning and while I wasn't outside long, it was long enough apparently to get some "culla." (That's southern for "color.") My dear friend, Lisa – a friend of many years – came by the next day and was shocked that my skin could even turn brown. With Lisa as my witness, I can get a tan, I just don't want one.
Do I Need to Change Me?
But this isn't about a tan, or my lack thereof. This is about the men we welcome into our lives and what compels them to try to change the very thing about us that attracted them to us? In this particular case with this particular ex, I was as pale-skinned on our first date as I was on our last, but damned if he didn't do his best to transform me into someone I had no desire to be. In every other case, with every other ex, while it wasn't my lack of skin color, it was something: my ambition, my determination, my independence, my power, my strength, my fire.
My dear friend, I'm here to say that I'm happy with my pale skin… and my ambition… and my determination… and my independence… and my power… and my strength… and my fire. Especially my fire!
Wishing you peace and plenty of reasons to be happy with yourself, just as you are!
Your gray (and pale) girlfriend,